Information About CERT
If available, emergency services personnel are the best trained and equipped to handle emergencies and certainly are our first line of defense.  However, following a catastrophic disaster, you and the community may be on your own for a period of time because of the size of the area affected, lost communications,  impassable roads and other situations that could over-stress our emergency response capabilities.
CERT training is designed to prepare you to help yourself, your family, and your neighbors in the event of a catastrophic disaster.  Because emergency services personnel will not be able to help everyone immediately, you can make a difference by using the training you receive to save lives and protect property.
CERT is Neighbor-Helping-Neighbor, doing the greatest good for the greatest number of people.

A community based program targeted at community residents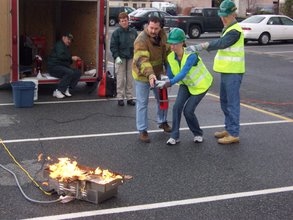 A group of ordinary citizens who want to help in time of disaster

Comprised of people trained in basic emergency skills offering immediate help to victims until professional services arrive.
Enforcement, and Emergency Medical Services, etc. This training covers basic skills that are important to know in a disaster when emergency services are not available.  With this training and practice and by working as a team, you will be able to do the greatest good for the greatest number after a disaster, while protecting yourself from becoming a victim.
The CERT program consist of training in the following areas, Team Organization, Disaster Preparedness, Medical Operations, Fire Suppression, Disaster Psychology, Light Search and Rescue, Animals and Disaster, and Terrorism.
Training and Exercises
The State CERT Team has targeted and continues to target local businesses, faith based groups, and the general public for CERT training. Among its successes, Delaware Citizen Corps formed a CERT Instructors Team that conducted CERT programs in all Delaware counties, training approximately 1500 hundred people to this date. The state also conducted several Train-the-Trainer courses, and as a result, New Castle County Citizen Corps, Ocean View Citizen Corps, and the Church of Latter Day Saints have established their own CERT Instructors Training Teams.
Both the City of Wilmington and New Castle County conducted CERT training for their communities this year. Faith based, civic organization and youth groups all received CERT.
Delaware State University and Kent County Emergency Management Agency sponsored Community Emergency Response Team (CERT) training and CERT teams so that Police Cadets from DSU serve both the University and the County.
HOW PREPARED IS YOUR BUSINESS?

Do you and your employees have a disaster plan and Kit?


"An investment in planning today will not only help protect your business investment and your livelihood, but will also support your employees, customers and stakeholders, the community, the local economy and even the country"
In an effort to assist business with Disaster Preparedness, Planning and Response, The DEPARTMENT OF HOMELAND SECURITY and has made available a WEB site,
That will address: READY BUSINESS
How to stay in business if a Disaster occurs
Talking to your people!!
Protecting your investment!!
The site contains recommendations for Emergency Planning, Continuity of Planning, utility disruption, and employee health, just to mention a few.
Delaware has developed a CERT course tailored for business. To date we have conducted a CERT for business course for the Happy Harry organization, The Security firm of Day Zimmerman, American Society for International Security (ASIS), and the Bank of America.
If you're interested in participating in CERT training, check out upcoming classes in current events.  For pictures of the previous CERT classes, view the photo galleries.